American Land Survey, LLC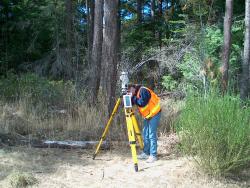 American Land Survey, LLC provides the people of Jefferson County with the most reliable and accurate surveys possible.
I have the expertise of those who have worked in the land-surveying field for many years as well as those just finishing college with the latest knowledge of equipment and techniques available.

I am dedicated to the advancement and proper training of future surveyors of Washington State.
About Me
Finis (Bud) Brewer, Professional Land Surveyor, has been surveying for over 40 years, the last 31 years in Jefferson County. His extensive knowledge of East Jefferson County is invaluable for problem solving in difficult areas.
His expertise in researching and writing deeds, and easements is essential to the surveys he performs as well as to the client who needs accurate legal documentation.
---

Browse our website for the following: